lovakról
A Lófajták
Nóniusz
Melegvérű fajta. Arányos testfelépítés, kos -vagy félkosfej, széles szügy, hosszű hát, rövid far, és száraz ízületek jellemzők rá. Hazai fajta, mezőhegyesről származik. Az eredeti tenyészcél egy olyan katona ló volt, mely hátas és igáslónak alkamas, nagy teherbírású, nyugodt idegzetű, de mégis kellően élénk vérmérsékletű ahoz, hogy rövid idő alatt hosszú távokat lehessen vele megtenni. Az alapítómén Nonius Senior volt, aki hadizsákmányként érkezett magyarországra. Ő maga kimondottan csúnya ló volt, de kitűnő ősei miatt mégis bevették a tenyésztésbe. A Nóniusznak két tájfaja létezik; A fekete, magas (kb. 180 cm) Mezőhegyesi Nóniusz, És a szikár, pej, és alacsonyabb (kb. 160 cm) Hortobágyi nóniusz. Manapság, hátaslóként, és fogatban használatos, de a csikósbemutatóknak szintén népszerű résztvevője.

Haflingi
Szép egyenes fej, széles hát -és szügy, rövid far, erős és picit zömök lábszerkezet jellemző rá. Az Olaszországi Tirol hg-ből származik, nevét a Merano melletti Hafling településről kapta. Az eredeti tenyészcél, egy olyan igás -és málhásló volt, mely biztos léptekkel tud haladni, a meredek, és havas magashegységi területeken. Innem a fajta jelképe: A havasi gyopár. A fajta születését 1874-re tehetjük, ugyani ekkor született egy 294 Folie nevű mén csikó, aki a fajta alapító ménje lett. Apja egy félig arab mén volt, anya egy Tiroli kanca. A fajta alapját Nori, és alpoki hidegvérű vonalak alkották melyet arab vérrel nemesítettek. Kedves és gyerekszerető fajta, manapság hátas -és fogatlóként használják. Marmagassága 155 cm körül van, Kisló, Színe sárga vagy fakó.

Shire
A shire (ejtsd: sájr) ősei angliában honos lovak voltak, valószínűleg a nagy angol lovak (great english horse). A shire óriási méretéről (kb 165-200cm) híres. Nagy-Britanniából származik. Régen angliában ezek a lovak teherbírásuk miatt stratégia fontossággal bírtak, hiszen egy akkori lovag páncélzattal eggyütt, akár 400 font (180 kg) is lehetett! 1760-tól ismét kereztezték a fajtát fríz, és flandriai lovakkal. Az 1700-as évektől a shire feladata az árúszállítás, és mezőgazdaság lett. Nem sokkal ezek után a pompás, nagy munkakedvű, barátságos shire nemzeti kinccsé vált, és az angol utcák mindennapjaihoz is ugyanúgy hozzátartozott, akár a BigBen látképe. "Angol fekete" néven vált ismertté. robszus testfejépítés, egyenes -vagy kosfej, széles vállak, és hosszú csügszőrzet jellemző rá. Színe a feketétől a pejig terjed sok jeggyel, ritkán szürke. Manapság lovasbemutatókon, nyereg -és hám alatt szolgál. Kedves, érdeklődő, és tanulékony.


Shetlandi póni
A Világ legkisebb pónifajtája a shetlandi póni. Valószínűleg Nagy-Britanniából származik. Az É.Skóciai Shetland szigetekről kapta a nevét. A rendkívül zord időjárás ellen szívóssága, és dús szőrzete védte meg. Munkalóként háziasították, fűtő anyagokat szállítottak vele. Az 1800-as években bányalókényt szolgált. Erre nagy ereje és kis mérete miatt volt alkalmas. Rengeteg Shetlandi póni Született, -és pusztult el bányákban anélkül hogy valaha is napfényt láthatott volna. Az 1880-as években elterjedt az USA-ban is. Az első tenyészév két mén -Prince of Wales és King Larigo- nevéhez fűződik. Az USA-ban "modernizálták" a shetlandit, és kereztezték más pónifajtákkal (főleg Hackney pónival). Barátságos és nyugodt természete miatt gyereklóként is elterjedt. Zömök testalkatú, tanulékony és hosszúéletű.


Fjord póni
Ez a tündéri sodrott kis póni Norvégiából, a jégkorszak előtti időkből származik. Jellegzetéssége a hátszíja és a sörénye. Ugyanakkor lábai zebramintásak is lehetnek. Ez a póni a Przewalski lótól származik. Rengeteg tulajdonságot örökölt tőle. Kitartóak és szívósak. Nagyon sokfelé elterjedt fajta. Hátaslóként használták őket, és még a mai napig is annak hasznosítják, csak ehhez még hozzátársult a málhás-, illetve fogatló szerepe is. A szíjalt hát a vadlovak örökségét mutatja. Ennek a fajtának a sörényét vágják, főleg azért, hogy mutatósabb legyen. Így feláll, és úgy vágják, hogy megmaradjon egy vékonyabb fekete csík. Az első méneskönyvet 1900-as évek elején adták ki. A Fjord egy igen sokoldalú és bátor póni. A fülei aprók, feje száraz, szemei nagyok, tulajdonképpen barátságos tekintetű. A nyak rövid, a váll izmos, a lapockák dőltek. A mar lapos, háta hosszú, melyen hátszíj húzodik. A törzs erős, lábai rövidek és erősek. A farok dús és vastag, a far terjedelmes.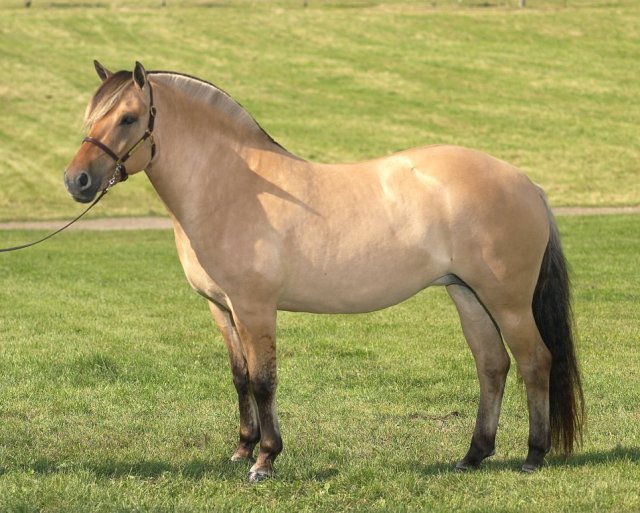 Andalúz
Történelmi kutatások szerint az andalúz elődeit használták először hátaslóként. Spanyolországból származik. Ez a gyönyörű, kecses, leírhatatlanul elegáns fajta rengeteg középkori uralkodót elbűvölt. Sok mai lófajtát nemesítetek a spanyol ló vérével. Leggyakrabban szürke vagy deres színűek, ám előfordulnak pej, és fekete egyedek is. Nemes, egyenes fej, erős -és ívelt nyak, arányos, viszonylag rövid test, és középhosszú lábak jellemzik. Atletikus, fordulékony, és megbízható lófajta: Alkalmas a spanyol Magasiskola betanulására is. Manapság hátaslóként használják, feltehető őse a sorria póni.

Fríz
Rendkívül bájos, és szeretnivaló lófajta. Hazája hollandia, feltehetően a shire ló is tőle származik. Színe minden esetben fekete, a jegyek nem kívánatosak. Nemes fej, ívelt nyak, rövid és egyenes hát, valamint dús sörény -farok -és csüd szőrzet jellemzi. Érdeklődő, és barátságos lófajta, rakagaszkodik az emberhez, ám nagyon rosszul viseli a bünetéseket. Könyen kezelhető, és élénk. A 2. században Hadrianus római császár katonái is ezekkel a lovakkal indultak nagíy-britanniai hadjárataikra. Napjainkban hátas -és fogatlóként használják, de a bemutatókon sem ritka.
Palomino
Igazából ez a ló nem is kifejezetten lófajta. A palominok Bourbon Izabella királyné kedvenc lovai voltak, és ő maga több mint 100 egyedet tartott belőlük. A család tagjain kívül csak különleges engedéllyel lehetett rajtuk lovagolni. Az ő neve után jött a szín másik elnevezése: Izabella fakó. Amerikában 1936-ban alapult meg a Palomino Ló Szövetség. A regiszterbe (fajtára való tekintet nélkül) bejegyezhető akármilyen palomino színű 142-176 cm magasságú ló.
Akhal teke
Ez a lófajta Trükmenisztánból származik. Egyes történtelmi források szerint nem az arab telivér, hanem az akhal tekini volt a legősibb fajta. Érzékeny, intelligens, kissé szeszélyes temperamentumú. Kecses, emellett nagyon szívós, sportos felépítése van; Hosszú hát, izmos far, erős száraz lábak és magas mar jellezmik. Díjugartásban, galoppsportban, militaryban egyaránt átlagon felüli teljesítményt nyújtanak az akhalok, de a nyugati elvárásoknak mégsem felnek meg. Rendkívül különleges színekben fordul elő: Szürkétől a fakó különböző árnyalatain át, egészen a feketéig terjedő színskálában fordulnak elő az egyedek, érdekes fémesen csillogó rövidszőrökkel. Régebben hosszú sivatagi galoppversenyek résztvevője volt: 1935-ben 84 nap alatt 4300 km-t tettek meg vele, Ashgabadból Moszkváig, ebből 360 km sivatagi terep volt. 
Személy szerint az akhal teke a kedvenc lófajtám tetszetős külleme, és rendkívüli sportteljesítménye miatt.
Arab telivér
Történelmi források szerint az arab telivér a világ legősibb lófajtája. Az arab félszigeten, a beduin törzsek használták ezt a fajtát: Féltve őrizték a ménest, feljegyeztek minden tenyésztési adatot. Ennek köszönhető, hogy a tulajdonságok hosszú évezredek alatt megszilárdultak az arab lovakban. Szívós, kecses, átütően örkítő lovak. Csuka / egyenes fej, rövid, izmost hát, ívelt nyak, erős lábszerkezet jellemzi. Manapság hátaslóként, ritkán fogatban használják. Az arab telivér rendkívül népszerű fajta; A világ minden részén tenyésztik. (Érdekesség: Az arab telivéreknek 17 bordája, 5 ágyék csigolyája, és 16 farokcsigolyája van, míg az összes többi lónak 18-6-18 található.)
Musztáng
A Musztáng Amerikai lófajta, a spanyol hódítók által behozott lovakból egy elvadult ménes lett. Az egyedk keveredtek más Európából behozott fajtával. Az indiánok befogták, és megszelidítették a musztángokat. A 20. század elején kb. 2 millió vad példány élt Amerikában, azonban kártevőnek minsősítették; rongálta a termést, a kerteket. Valószínűleg az is közrejátszott a musztángok rohamos irtásában, hogy az "indiánok lovaiként" voltak ismertek, akkoriban az őslakosokat is "állatoknak" tartották. A létszám nagyon megcsattant, a fajta csaknem kihalt, de 1971 óta törvény védi a musztángokat. A musztángok nagyon éltérő külsejűek és színűek, a sokféle ősőkre visszatekintve, de általában zömökek, ellenálóak, intelligensek, igénytelenek. Ma kb 30.000 musztáng él a földön.
Angol Telivér
A leggyorsabb lófajta a világon, mely 64 km /h-s sebességre is képes. Az ango telivér három arab fajtájú ménre vezethető vissza: Darley Arabian, Godolphin Arabian, és The Byerly Turk -re, akik a 17. század elején vittek Nagy-Britanniába. Velük fedeztették a régóta a térségben élő galloway fajtájú pónikancákat, és az eredmény lenyűgöző sikert aratott; Szinte tökéletes testalkatú, nagy állóképességű, gyors, atletikus, robbanékony versenylovakat. Napjainkban a lóversenyek népszerű résztvevője, és hatalmas temperamentuma miatt nem is ajánlható kezdő lovasok részére. Magyarország, és egyben a világ legeredményesebb telivérje Kincsem volt, aki 54 versenyéből mind az 54-et meg is nyerte! :)
http://www.youtube.com/watch?v=fznFifZuWaA&feature=player_embedded
A lószínek
Világos Pej: A rövidszőrök barnák, a hosszúszőrök (sörény, farok) feketék.
Pej: (sötét) barna az alapszín, a hosszúszőrök és a lábvégek feketék.
Sötétpej: Nagyon sötét barna rövid szőrök, fekete hosszú szőrök -és lábvégek. (Nem összetévesztendő a nyári feketével!)
________________________________________________________________________________
Szürke: A bőr szürke, az összes szőr a fehértől a világosszürkéig terjed (nem kevereten), hosszú szőrök színe fehértől feketéig terjedhet.
Legyes szürke: Olyasmi, mint a sima szürke, de az idő múlásával pici barna pöttyök jelennek meg a rövidszőrök közt.
________________________________________________________________________________
Sárga: A rövid- és hosszú szőrök Vöröses színűek
Májsárga: a rövid -és hosszú szőrök Barnás-vörös színűek. (de nem keverten!)
_______________________________________________________________________________
Fekete: A rövid -és hosszúszőrök feketék. Nem összetévesztendő a sötét pejjel.
Nyári fekete: Az alapszín fekete, de a hajlatoknál és az orrnál sárgás színű a szőrzet.
_______________________________________________________________________________
Izabella Fakó: A rövidszőrök aranyszínűek, a sörény meg farok fehéres. (Ezt a színt nevezk Palomino-nak is)
Zsufa fakó: a rövidszőrök aranyszínűek, a hosszúszőrök feketék. (ezt a színt nevezik buckskin -nak is.)
Egérfakó: A rövid szőr szó szerint szürke. Hosszúszőrök feketék (esetleg halvány melír szerű csíkkal.)
_______________________________________________________________________________
Deres: Kevert színű szőrszálak a testen, a hosszűszőrök renkívül változatosak lehetnek. Rengeteg féle árnyalata van a deresnek, íme néhány:
Pej deres:
Vas deres:
Almázott deres:
Vércsederes:
_______________________________________________________________________________
Grulla: Kékesszürkétől a barnásig terjed, a hosszúszőrök feketék. (ejtsd:gruj-ja!)
Perlino: fehér rövidszőrök, sötétebb vöröses hosszú szőrök.
A becsapós színek:
Fehér vagy Szürke?
Ugyanis a kettő nem mindeggy! A szürke az szürkés árnyalatú, és a bőre is szürke. Az albínók az igazi fehér lovak! Az ő bőrük pigmenthiányos, tehát jogosan mondhatjuk fehérnek.
Fekete-tarka vagy Fehér-tarka?
Ugyanis a kettő nem mindeggy! A fekete-tarka az fekete foltok fehér alapon, a fehér-tarka pedig fehér foltok fekete alapon. Ez így van, és még logikus is.
Alap színek:
Az alapszínek a következők: Barna, pej, fekete, fakó és sárga. Az első megszelidített hátaslovak ilyen színűek voltak.
Hozzászólások
Hozzászólások megtekintése
---
---